I call myself an Artist, Art Educationist, and Art Critic. I have been creating art for the last 15 years and held solo & group exhibitions at Delhi, Bangalore, Kyoto (Japan), Tokyo (Japan), Sri Lanka, Mauritius, Frankfurt (Germany) and Sofia (Bulgaria).
Currently I live and work in Delhi. Teaching Art and heading the Co-scholastic department of Ramjas School Delhi, India.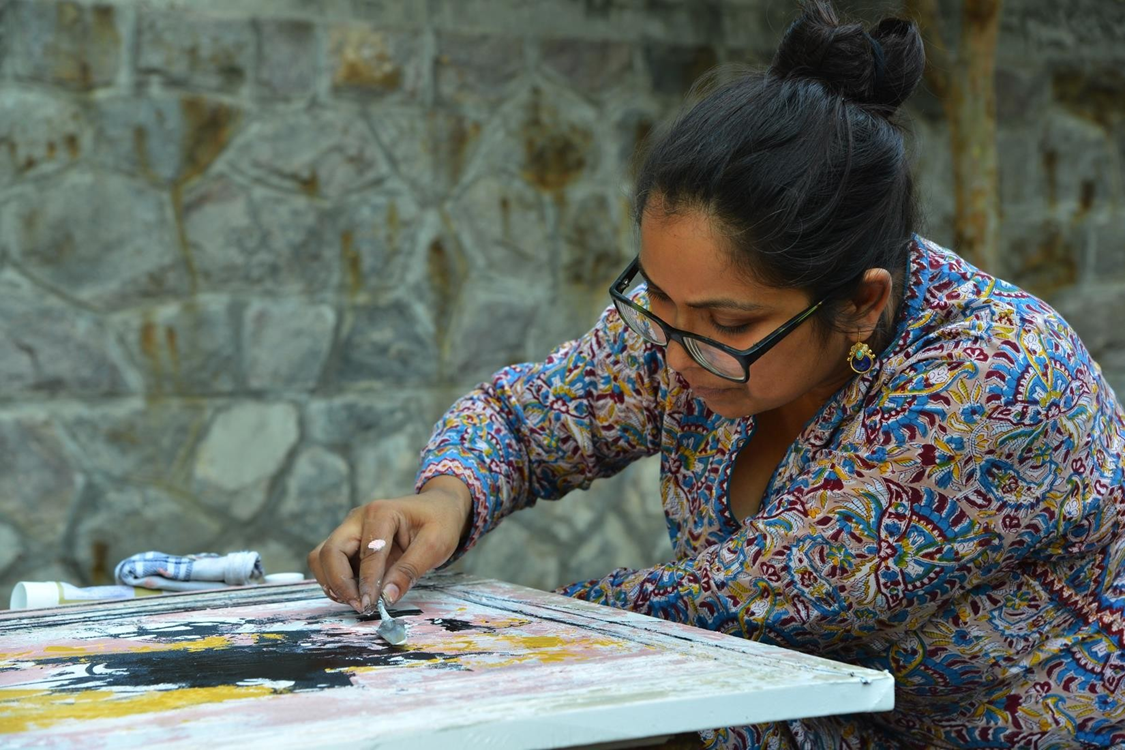 I was awarded with the "Pearson Teaching Excellence Award" in the year 2013 and "CBSE Teaching Excellence Award" in the year 2020.
I represented school in the project "Connecting Classrooms", a British Council project, designed to help young people become globally aware and competitive in the 21st century. Running from 2015-2018, the programme was designed to build and enhance the capacity of teachers, school leaders and policy makers worldwide to support them in integrating a range of core skills into the curriculum.
I have worked intensively on integrating Technology with Art in my art classes. my work, in this area, has been recognised, applauded and awarded by the British Council India.
I have also conducted training workshop on 'Effective Art Education' for on the job teachers organised by Pearson. Have been called as a subject expert by Institutions like United Nations Information Center, Bal Bhawan, The British Council and Pearson.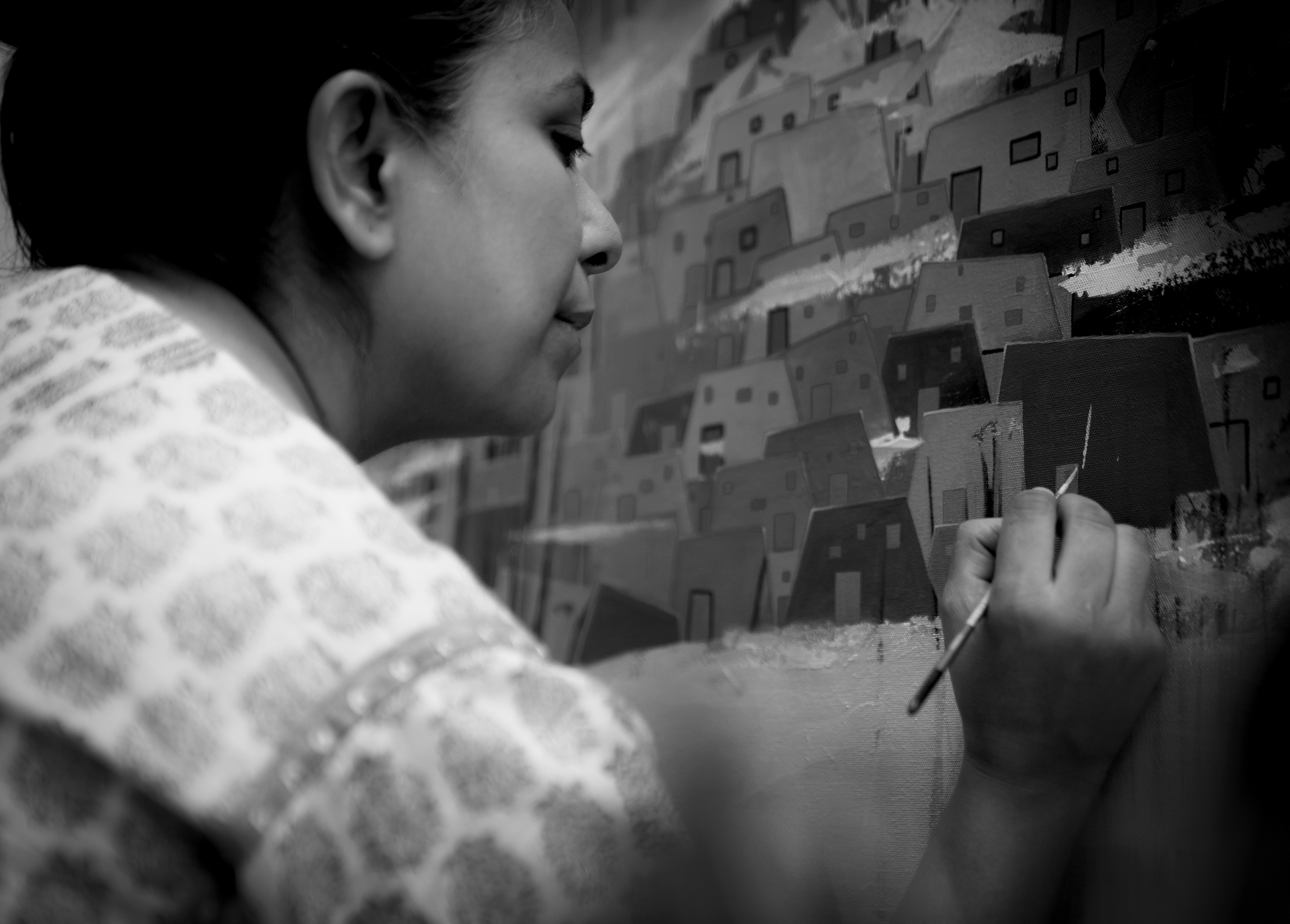 "I am just exploring and walking and enjoying the journey. I like working in layers. Layers that are created in such a way that it covers and reveals both at once. I begin my work by splashing black on the white surface.  I like using variety of media and tools."
I was awarded a Research scholarship by the Japanese government, to undergo research on Art & Art education. During my 18 months of stay from October 2008 to March 2010 in Japan I published a research paper 'American Influence on Japanese Art & Vice Versa'. I was invited at various forums including Kyoto University, Kyoto University Of Education, Kyoto International Center to have talks on topics like :
Japan from a Foreigner's Point of View
Similarities in Indian and Japanese Culture
What we (Indians) can learn from Japan
Introduction to Indian Culture
Apart from curating and showcasing my paintings during my stay there I also got an opportunity to work on and display 'Public Art in Japan'.
Awarded with the prestigious CBSE Excellence in Teaching award for the year 2020.
I have been curating Art shows and writing articles in Art centric Magazines (print as well as web) and catalogues.
I have been working closely along with my students with the United Nations Information Center for India & Bhutan to depict the impact of various pressing issues with the help of Art.
Member of Frankfurt based art community 'Be Part of Art', Online 'Art Teachers Community', online artists forum 'World Art Community'.
Academics
Masters in Painting, Raja Man Singh Tomar Music and Arts University, Gwalior, Madhya Pradesh, India
BFA Painting Jamia Millia Islamia, Delhi, India
Post Graduate Research program in Art Education Kyoto University of Education, Kyoto , Japan
Exhibitions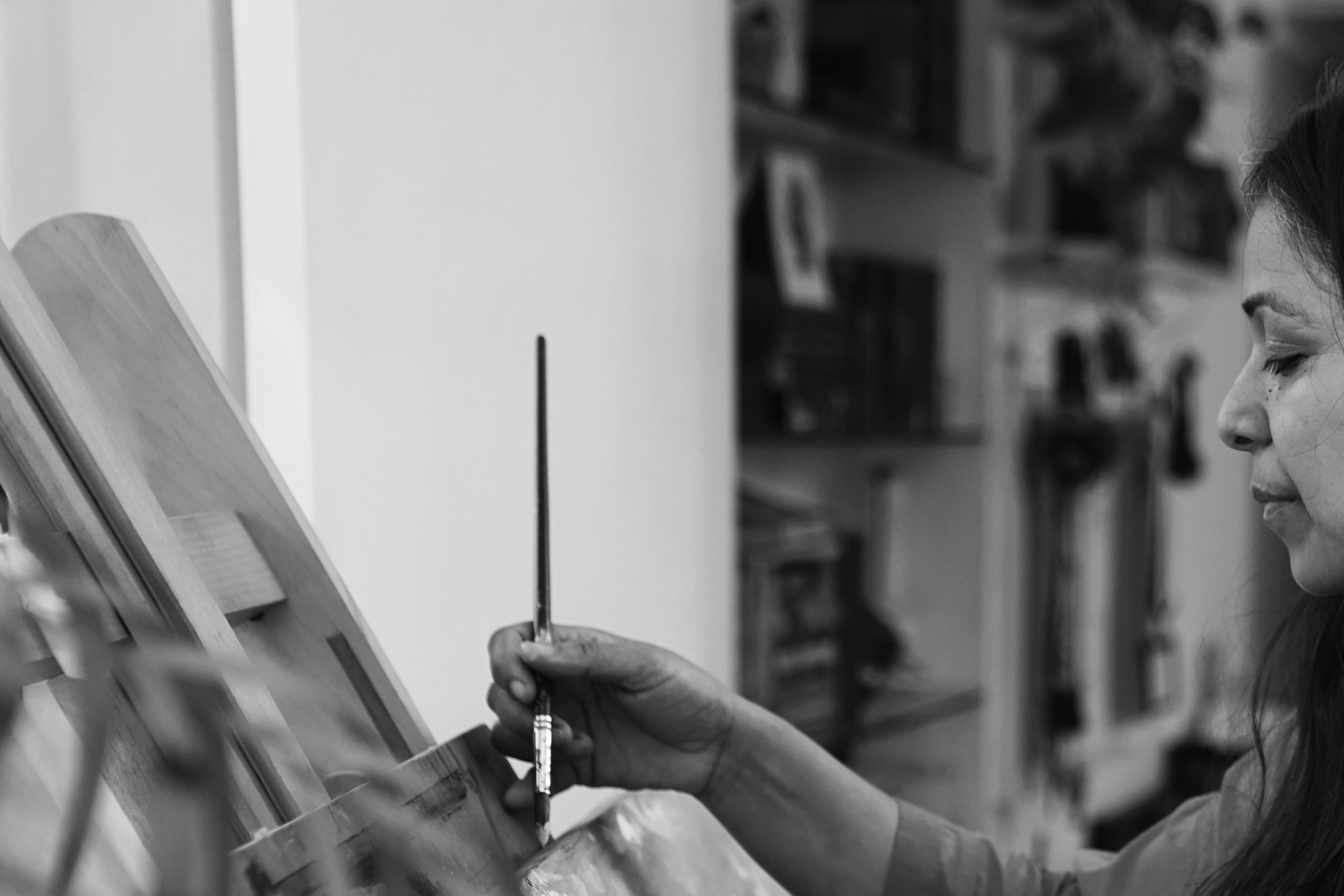 Group show in Resonance Gallery, Sofia, Bulgaria March 2020
Solo show in Frankfurt, Germany February to April 2019
'Semicolon' a solo show of paintings at Triveni Gallery, Triveni Kala Sangam, Tansen Marg, New Delhi, November 2016
'Stree 16' a group show of women artists at Art Mall, Delhi, March 2016
'Return to Roots 2' a group show at MF Husain Art Gallery, Delhi March 2016
'Blue-Beyond Dimensions' a group show curated by Sree Arts Gallery at Visual Art Gallery, India Habitat Center, Delhi, January 2016
'Aesthetic Exuberance' a group show at Lalit Kala Academy, Delhi, October 2015
'Can I hear a Painting and see a piece of Music' a solo show of paintings at Triveni Gallery, Triveni Kala Sangam, Delhi March 2015
Organized and Participated in one day art event on the occasion of World AIDS Day organized by United Nations Information Center for India and Bhutan in Delhi 1st December 2014. works produced during the event were exhibited at the UNIC till January 2015.
'Art for Earth' a group show organized by Kala Care Group. Delhi.
'Join' a group show organised by Sree Arts at Roman Rolland Gallery, IFCC, Lodhi Road, Delhi June 2013
'The Future We Want… A Safer World for Women', exhibited as well as curated a group show in collaboration with United Nations Information Center for India and Bhutan. Delhi. March 2013
Exhibited (also curated) in a group show called 'v11' at Lalit Kala Academy, Delhi. January 2013.
Three artists show called 'Kampai Gurai' at Kyoto International Community House, Kyoto, Japan, January 2010
Group show at the Municipal Museum of contemporary art, Kyoto, Japan organized by Kyoto Current, October 2009
Street Installation show at the Fushimi Momoyama Market, Kyoto, Japan July 2009.
Group show organized by ITDC at Hotel Ashok New Delhi in the year 2006, 2007.
A group show called 'Voyage' at Visual art gallery, India Habitat Center, Delhi, India in 2004.
A Group show of Printmakers, organized by ATTELIER 2221, at Palm Court Gallery, India Habitat Center, New Delhi, India, 2001